Good Speech Today Notes!
A FUN way to let your students (and everyone else) know that their work today in Speech Therapy was extra NOTE-WORTHY! Motivate them to do their best!
If your client's speech was "Music to your ears!" print out these notes and let everyone know!
Updated from our classic version! Now two different designs to choose from!
Print four to a page to save ink and paper!
Everyone likes to hear that they gave a "Note-Worthy" performance!
PLEASE NOTE: By downloading and viewing any of the free offered items, you acknowledge that you will not use these for profit or for sale, and that SpeechPage assumes no liability for the use or misuse in anyway of the information or materials provided.
Click filename below to access file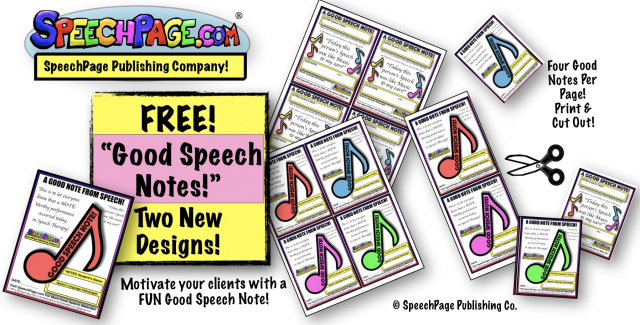 If you haven't already, please Sign Up For Email Specials, Newest Downloads & email Discount Deals!

PLEASE Like Us On FACEBOOK for Facebook-Only Specials and announcements! Follow us on TWITTERand INSTAGRAM and Pin Us on PINTEREST!

Looking for FUN INTERACTIVE Speech & Language THERAPY MATERIALS?

SpeechPage has UNIQUE SLP Designed & Illustrated Materials For:

RECEPTIVE LANGUAGE COMP - FOLLOWING Multi-Step Directions

AND MORE!

SpeechPage.com Publishing Company offers many materials for sale that are LOVED BY SLPs!
Looking for MORE FUN? Check out the wide variety of affordable and durable materials we offer! SpeechPage.com Publishing Co. Also carries a wide assortment of NEW Articulation FUNPages! These Super FUN Articulation Activity SpeechPages that are sure to keep your clients motivated in your sessions! Buy them by the set as you need them, OR save a Bundle and BUY them as part of a BINDER BUNDLE!!