Our NEWEST Catalog!
OUR NEWEST CATALOG VOL 18! Has our latest sets and even some deals!
There are two choices of MONEY SAVING options in our Catalog! Choose to Save Up To $20 on a mail-in orders using the attached order form, or choose to Take 8% OFF online orders when you use the online promotion coupon code listed in the catalog!
Download, Print and Keep for future PO's and personal orders! (Please note info for submitting PO's listed below.)
SpeechPage Product Catalog
Click filename below to access file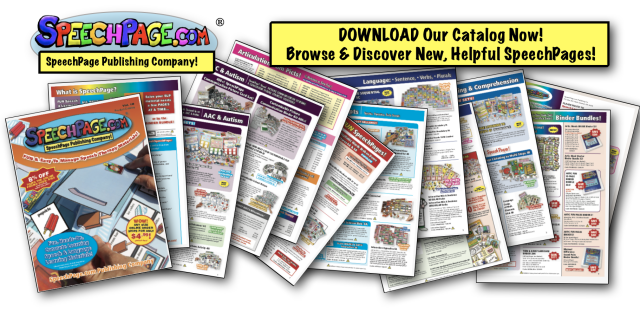 P.O.'s:
Please Note: We accept authorized Purchase Orders from schools and facilities in the USA.
P.O. may be:
Emailed to us: info @ SpeechPage.com
Faxed to us at: 1-904-216-5478.
or US Mailed to us: SpeechPage.com, P.O. Box 356, North Olmsted, OH 44070
We will quickly provide our W9 form on request.
Please use pricing from our catalog or the non-sale regular price of items on our website for all POs.
Shipping & Handling of PO's is 10% of the subtotal for PO orders, with a minimum of $5.00.
If you do not receive your order with in 7 days of sending a PO, PLEASE email to confirm we received the PO! We have a fast order turn-around so you should get your order very soon after placement.
WANT TO BE MAILED A CATALOG?
WANT ACCESS TO DISCOUNT CODES, SALES, & SPECIALS?
FOR SUPERSAVER INSIDER Discount Specials, PLUS NEW PRODUCT NEWS AND FREE DOWNLOAD Announcements:
We will send you our INSIDERS eNEWSLETTER!
Include your ADDRESS and we will Mail you a catalog when issued!
You may need Adobe Reader to open this PDF file. Adobe Reader is free software already on most computers and available from Adobe at Adobe.com
©SpeechPage.com Publishing Company

Now You Can LIKE SpeechPage ON FACEBOOK!
Keep up with all of our Latest Offerings and Free Downloads!