| | |
| --- | --- |
| Orig. Price: | $50.00 |
| Sale Price: | $39.99 |
| Availability: | in stock |
| Prod. Code: | INTWQCS3A3B |
★NEWEST WH-QUESTION SET★
Limited Time:
SAVE TODAY!
OUR NEWEST FUN ADDITION TO OUR BEST SELLER SERIES of WH-Questions!
Introduced 2020
SHIPS TO YOU: Laminated-Cut-Velcroed! Ready-Made in the USA & Ready-To-Use!
A TOTAL OF ★ 36 Different ILLUSTRATED Velcroed pull-off WH- Question Cards ★ (with ILLUSTRATED answers shown underneath!) ★ Each SpeechPage has WHO, WHAT, WHEN, WHERE, WHY & HOW Questions!
SIX WH Q CARDS PLUS NINE ADDITIONAL WH QUESTIONS ON EACH SpeechPage! 90 TOTAL WH- QUESTIONS IN THIS COMBO!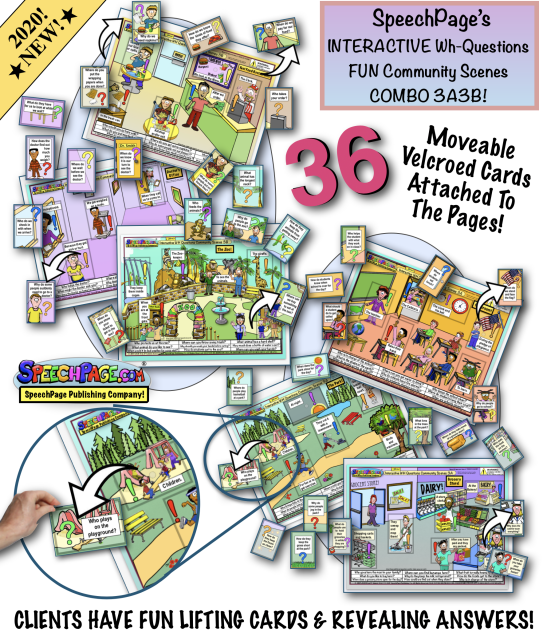 9 Additional WH-Questions on the bottom of Every SpeechPage!
90 Total WH-Questions in this set!
ALL 36 'Lift & Reveal' CARDS COVER PART OF A FUN SCENE with the Illustrated Answer Under the Card!!
Each SpeechPage has:
★ SIX ILLUSTRATED Velcroed pull-off WH- Question Cards! (One each for WHO, WHAT, WHEN, WHERE, & HOW!)
★ Additional NINE WH- Question prompts printed on the bottom of each SpeechPage! (That is a total of 15 different WH- Question Per Page!)
COVERS ALL SIX WH-TYPE QUESTIONS!
WHO, WHAT, WHERE, WHEN, WHY & HOW type questions!
(THIS IS A COMBO OF OUR PART 3A & 3B Sets!)
QUALITY COMPACT PRODUCT! 36 DIFFERENT Colorful Interactive Illustrated Cards! Pull off to reveal illustrated answers! (We used 72 dots of velcro to make this combo set! LOTS of interactive fun learning!)
Our other Wh-Question Sets have long been Best Sellers. Now we offer A FUN INTERACTIVE WAY TO APPROACH TEACHING WH-Type Questions!
EACH SpeechPage covers one type of WH-QUESTION!
You get SIX HEAVY DUTY LAMINATED SpeechPages in this set!

Example of questions include an illustration of a girl in a zoo picture and the question: "WHERE can we buy something to eat at the zoo?" The card can be lifted off of the velcro to reveal the illustrated answer: "At a food stand!" with an illustration under the card of the girl buying food at a stand now.
USE IN MANY WAYS!
-Answer WH-Question -The client may go through them one by one and answer the question presented then pull off the card to reveal the intended answer!
-Match the ANSWER to the QUESTION - Remove all the cards (or do this activity after completing type 1) and allow the client to choose one card at a time and try to determine which of the answers on the SpeechPage matches the question!
-Go over the extra NINE WH- Questions on every SpeechPage related to the illustrated scene. Create even more questons on your own!
-WH- Questions are also useful to prompt for sentence level speech samples.
SpeechPages are designed to fit easily into your therapy life!
If you have an ordinary 3-ring binder you are well on your way to building your SpeechPage
Speech Therapy Materials resource kit! The more SpeechPages you add the better prepared you will be! And it will be easier to transport and store them than most of the other materials you have!
Suggestions only. Suitability for use depends on many factors and must be determined by a qualified professional.



©SpeechPage.com Publishing Company

(These items are individually hand-made! Let SpeechPage do that time-consuming busy work for you!)

! Warning: Choking Hazard. Small Parts. Not For Children Under 3. ©SpeechPage.com Publishing Company