| | |
| --- | --- |
| Orig. Price: | $45.00 |
| Sale Price: | $29.99 |
| Availability: | in stock |
| Prod. Code: | INILID3B |
INTERACTIVE ILLUSTRATED IDIOMS 3B! Part 2 of 2 Sets!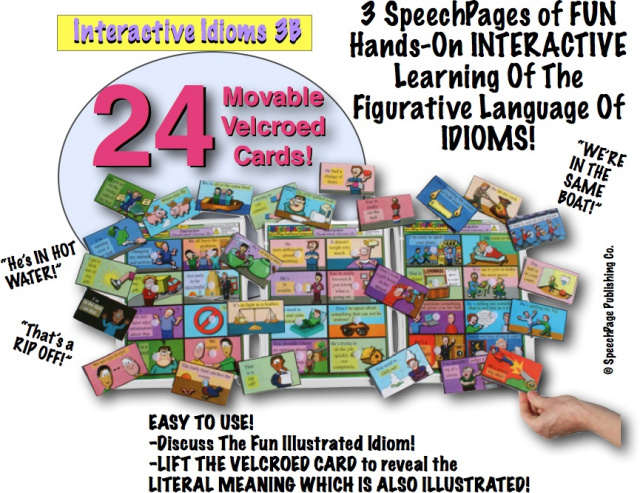 24 Colorful Interactive Illustrated IDIOMS Cards! Pull off to reveal the illustrated LITERAL MEANINGS!
OR BUY THE COMBO OF BOTH SETS 3A & 3A AND SAVE!
We use IDIOMS ALL DAY & EVERYDAY! But many of our clients struggle to understand the abstract or figurative meaning of them!
Examples: "We're ALL IN THE SAME BOAT!"
"That's a RIP OFF!"
NOW YOU CAN Teach the LITERAL MEANING of IDIOMS in a FUN AND COLORFUL INTERACTIVE WAY!
EASY TO USE!
-Discuss The Fun Illustrated Idiom!
-LIFT THE VELCROED CARD to reveal the LITERAL MEANING WHICH IS ALSO ILLUSTRATED!
24 Different Colorful LAMINATED velcroed cards in this set!
Language can be Literal and Language can sometimes be Figurative. It is difficult for some individuals to have a clear understanding of the metaphorical translations of idioms. SpeechPage offers FUN, INTERACTIVE, ILLUSTRATED materials designed to help with the understanding of the literal meaning behind the the figurative nature of idioms!
EACH SET HAS THREE SpeechPages with EIGHT different Colorful Fun ILLUSTRATED IDIOM laminated cards velcroed on them! Your client looks at the displayed IDIOM card and a discussion can take place about the meaning of the IDIOM. Then when ready the client removes the velcro card to reveal the LITERAL DEFINITION with another illustration of the true meaning!
THIS IS A ONE OF A KIND SpeechPage Exclusive PRODUCT!
Designed and illustrated by a Speech Language Pathologist with over 25 years of experience!
SUGGESTIONS ONLY! Recommendations for appropriate Speech Language Therapy, and therapy materials can only be made by a qualified Speech Language Pathologist (SLP) following a formal multi-factored Speech and Language evaluation. There are many different aspects of the individual's abilities and degrees of severity of communication abilities, methods, and differences that must first be determined through formal evaluation by a qualified professional before selection of materials or methods of therapy.

©SpeechPage.com Publishing Company