SLP Name, Do Not Disturb & Let's Talk Sign Posters!
NEW 2018!
Three FREE Speech Language Pathologist Door/Room Signs!
Handy and Fun!
We updated our "Your School's SLP" Name Sign! Just Print and write your name o it to welcome people to your Speech Room! And we have updated our "SLP Do Not Disturb Testing or Session" in Progress sign!
PLUS we just added a FUN "WELCOME TO Speech & Language Therapy Let The Talking Begin" mini poster door sign to welcome everyone to your room!
THIS ITEM MAY BE SHARED WITH OTHER SLPs BUT NEVER USED FOR PROFIT OR SALE.
SpeechPage FREE SLP ROOM POSTERS AND SIGNS 2018
Click filename below to access file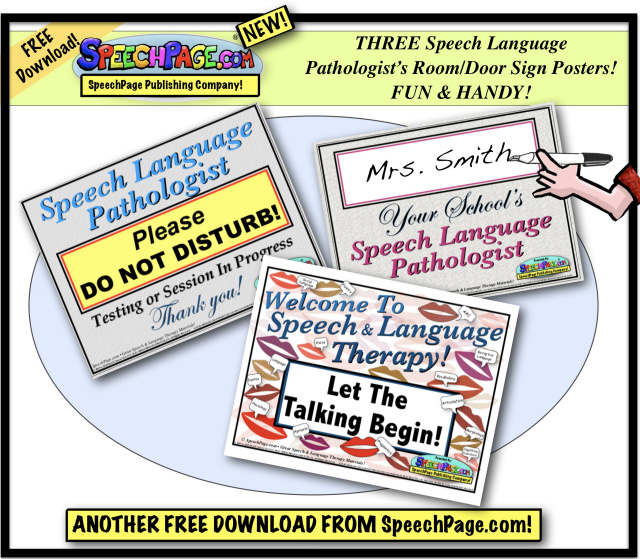 If you haven't already, please Sign Up For Email Specials, Newest Downloads & email Discount Deals!
SpeechPage.com Publishing Company offers many materials for sale that are LOVED BY School-Based SLPs and their clients!
PLEASE Like Us On FACEBOOK for Facebook-Only Specials and announcements! Follow us on TWITTER and INSTAGRAM and Pin Us on PINTEREST!
Looking for FUN INTERACTIVE Speech & Language THERAPY MATERIALS?
SpeechPage has UNIQUE SLP Designed & Illustrated Materials For:
RECEPTIVE LANGUAGE COMP - FOLLOWING Multi-Step Directions
AND MORE!


© SpeechPage.com Publishing Co.