| | |
| --- | --- |
| Orig. Price: | $40.00 |
| Sale Price: | $33.95 |
| Availability: | in stock |
| Prod. Code: | INSE3A |
THESE INTERACTIVE SPEECHPAGES are designed to allow the client an opportunity to try to identify the choice of emotions/feelings that illustrated scenario may represent!
PART 1 OF OUR EMOTION SETS (2016):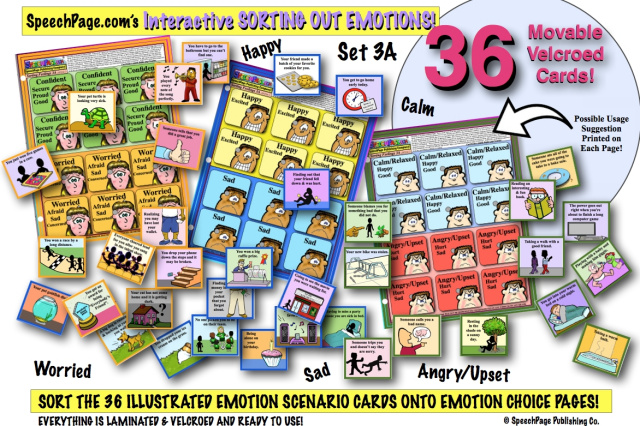 SAVE EVEN MORE AND BUY THIS ITEM AS PART OF A MONEY SAVING COMBO SET: INTERACTIVE Illustrated EMOTIONS/FEELINGS COMBO 3A4B
Sorting Out & Identifing Emotions & Feelings are an important part of Social Language that many of our clients are learning to better understand.
EASY TO USE!
Set 3A: SORTING OUT EMOTIONS
(An easier-to-work-on set giving two choices of feelings per scenario.)
This set has a total of 36 different colorful INTERACTIVE ILLUSTRATED LAMINATED CARDS Velcroed to Three SpeechPages!

HOW IT WORKS:
-Discuss each of the 36 DIFFERENT COLORFUL VELCROED CARDS with Emotion Topic Situations written and illustrated on the cards (EX: "You dropped your ice cream cone on the grass." or "You found money in your pocket that you forgot about." etc.) Allow the client to sort the cards onto the TWO Feeling choices per holding SpeechPage!

NOTE: Rather than focus on right or wrong answers, discussions as to why or why not the scenario may represent certain types of emotions may be more beneficial.
THIS IS A ONE OF A KIND SpeechPage Exclusive PRODUCT!
Designed and illustrated by a Speech Language Pathologist with over 25 years of experience!

SUGGESTIONS ONLY! Recommendations for appropriate Speech Language Therapy, and therapy materials can only be made by a qualified Speech Language Pathologist (SLP) following a formal multi-factored Speech and Language evaluation. There are many different aspects of the individual's abilities and degrees of severity of communication abilities, methods, and differences that must first be determined through formal evaluation by a qualified professional before selection of materials or methods of therapy.
NOTE: These materials are designed as a tool to assist in teaching topics regarding social language, emotions and feelings. These materials WERE NOT designed to be used as part of mental health therapy or treatment plan. Emotions are abstract concepts. Communicating and identifying emotions can be difficult for any individual especial those with special education needs. Some individuals may still have difficulty with emotion topics and understanding these types of materials. A Clinician's professional judgement as to the use of these materials is required. More than one answer is possible. Limit choices if needed.

©SpeechPage.com Publishing Company

(These items are individually hand-made! Let SpeechPage do that time-consuming busy work for you!)

! Warning: Choking Hazard. Small Parts. Not For Children Under 3. !


©SpeechPage.com Publishing Company