| | |
| --- | --- |
| Orig. Price: | $29.00 |
| Sale Price: | $26.99 |
| Availability: | in stock |
| Prod. Code: | INIPS3A |
$2 OFF LIMITED TIME!
(PART 1 of 2 social language sets! OR BUY THE COMBO OF BOTH SETS AND SAVE EVEN MORE!)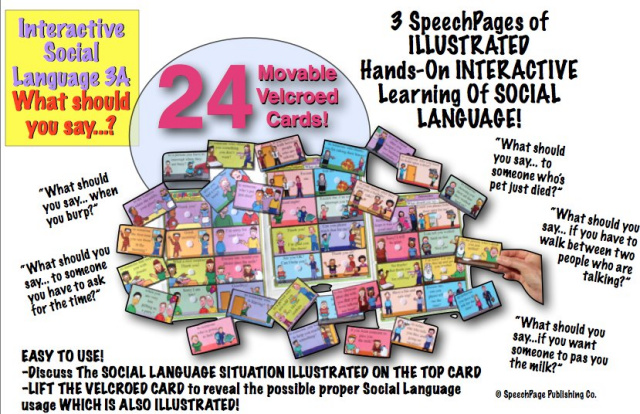 We use SOCIAL LANGUAGE ALL DAY but many of our clients struggle with typical social language norms.
THESE SPEECHPAGES ARE DESIGNED TO ADDRESS COMMON SOCIAL LANGUAGE SITUATIONS IN A "WHAT SHOULD YOU SAY...?" FORMAT! The cards each present a social language situation and can be lifted to reveal an appropriate social language choice!
This set has 24 different colorful INTERACTIVE ILLUSTRATED LAMINATED CARDS Velcroed to three SpeechPages!
EASY TO USE!
-Discuss The Illustrated Social Language Situation written and illustrated on the top card (EX: "What should you say...after you have a loud burp?")
-LIFT THE VELCROED CARD to reveal the suggested answer (EX "Excuse me.")
Other Examples in this set:
"What should you say...if you want someone to pass the milk?"
"What should you say...to someone who's pet died?"
And over 20 more interactive social language cards!
THIS IS A ONE OF A KIND SpeechPage Exclusive PRODUCT!
Designed and illustrated by a Speech Language Pathologist with over 25 years of experience!

SUGGESTIONS ONLY! Recommendations for appropriate Speech Language Therapy, and therapy materials can only be made by a qualified Speech Language Pathologist (SLP) following a formal multi-factored Speech and Language evaluation. There are many different aspects of the individual's abilities and degrees of severity of communication abilities, methods, and differences that must first be determined through formal evaluation by a qualified professional before selection of materials or methods of therapy.

©SpeechPage.com Publishing Company