| | |
| --- | --- |
| Orig. Price: | $40.00 |
| Sale Price: | $34.79 |
| Availability: | in stock |
| Prod. Code: | BRLLMS4C |
SAVE 13%! VERY Limited Time!
IF YOU BUY TODAY!
SHIPS TO YOU: Laminated-Cut-Velcroed! Ready-Made in the USA & Ready-To-Use!
Listening Skills Addressed Using AGE APPROPRIATE Fun Food Preparation Topics!
43 Moveable Velcroed Cards Attached To The Pages!!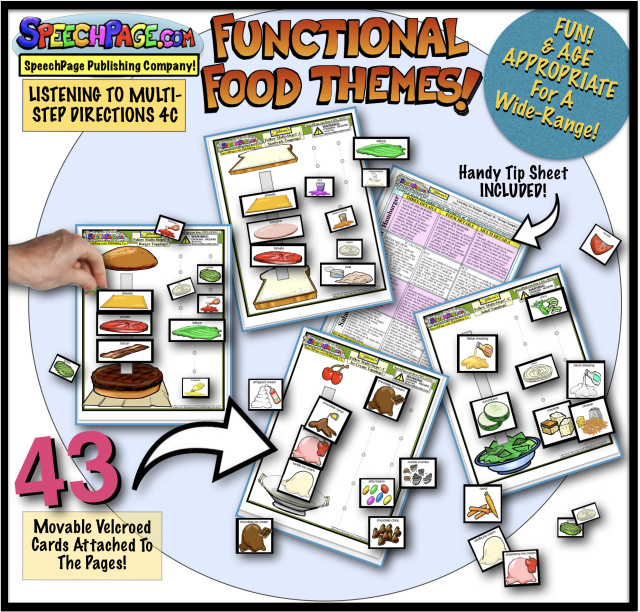 A Functional addition to our Popular and Fun SpeechPages
designed to help with with receptive language comprehension Has Become A BEST SELLER!

"...

The(y) also really like the set with the sandwiches, ice cream sundae, and salad. They ask to do these on a regular basis, and I like that I can use different levels within a group. Thanks for a great product.

"
M.A.H. SLP Ohio

Here's Why It IS SO POPULAR: Interactive removable Laminated & Velcro parts allow the client
to follow your receptive directions while in a functional real life type topic setting!

Did you ever order a food item and ask the person making it to put
on your very specific ingredients? Then you have an idea of what type of
listening skills these SpeechPages focus on!

These can be age appropriate lesson topics for older students
or adult clients working on listening skills (AND younger students enjoy them too!)
Older clients may be considering vocations in the food preparation field.
Most clients will be involved in some food preparation in their home life especially as they get older.
CLIENTS OF ALL AGES LOVE TALKING ABOUT FOOD!!

Includes FOUR Fun SpeechPages, each with a set of pictures attached to the handy holding area on the side by Velcro. These SpeechPages may be used to help with receptive language comprehension of Language Listening to Multi Step Directions!

Work with a wide range of ability levels with the SAME SpeechPages! Complexity & variation of direction following are possible through multiple elements available on each of these SpeechPages!

For Example the prompt to the client may be as simple as "Put cheese and pickle on the burger" but a more complicated could be used: "put chocolate syrup and cookie crumbs on the vanilla ice cream" or even "Put tomato, onion, croutons under the Italian dressing on the salad."


A helpful sample therapy usage SpeechPage is also included FOR FREE to get you started! You should be able to come up with a lot more receptive language listening prompts than we give you!

If you are looking for strategies for teaching following directions you have found it! These SpeechPages are great for Teaching Following Directions!

As usual, these SpeechPages compact a lot of potential usage into a small amount of storage space!

! Warning: Choking Hazard. Small Parts. Not For Children Under 3. !