| | |
| --- | --- |
| Orig. Price: | $25.00 |
| Sale Price: | $21.99 |
| Availability: | in stock |
| Prod. Code: | BRLLMS4G |
SAVE 10%! Limited Time!
SHIPS TO YOU: Laminated-Cut-Velcroed! Ready-Made in the USA & Ready-To-Use!
NEWEST IN THIS SERIES! 32 Card INTERACTIVE SILLY SCENES TO TEACH FOLLOWING DIRECTIONS!
A MOTIVATING & FUN Addition To Our Super Popular Series!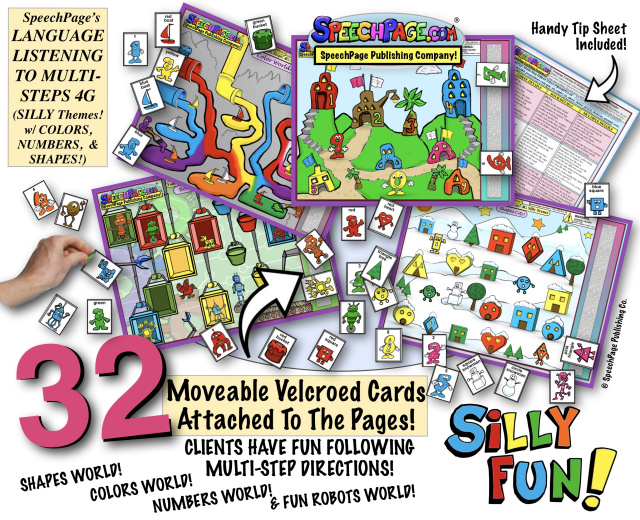 OUR NEWEST ADDITION (2018) TO OUR BEST SELLING SERIES OF SpeechPages!
Silly Fun & Colorful Themes!
Your students will love learning to follow multi-step directions in the different cute worlds using the attached velcored cards featuring: "Number Guys","Color Guys", "Shapes Guys" & "Fun Robots"!
This set is full of fun characters and scenes ALL HAND-DRAWN & DESIGNED by Don D'Amore MA CCC-SLP! Don is a unique combination of an Experienced Graphics Illustrator as well as an Award-Winning Speech Language Pathologist with over 25 years in the field!
SHIPPED READY TO USE! Everything is Laminated and Velcroed! Includes FOUR Fun SpeechPages, each with a set of EIGHT picture cards attached with Velcro to the the handy Velcro holding area on the bottom of the page. That's 32 Interactive Velcroed Cards In This Set!
These nice comments were posted to SpeechPage's Facebook Page February 2018 by two of the first customers to purchase this set:
"I just used this activity with a group of students who have cochlear implants. They loved it!! I highly recommend it!!

"
T.G. SLP Michigan
"I

Just ordered this set, and the kids love it!

The(y) also really like the set with the sandwiches, ice cream sundae, and salad. They ask to do these on a regular basis, and I like that I can use different levels within a group. Thanks for a great product.

"
M.A.H. SLP Ohio
Each SpeechPage in this set has a Fun Theme Worlds with themed interactive pieces attached! Allows clients to work on following multi-step directions interacting in a the displayed World of SHAPES, World of COLOR, World of NUMBERS, and World of Fun ROBOTS!
Work with a wide range of ability and age levels with the SAME SpeechPages! Complexity & variation of direction following are possible through multiple elements available on each of these SpeechPages!
Examples: The prompt to the client may be simple, or gradually growing in elements until they are more complex: "Put a heart on the tree." but a more complicated prompt could be used: "Place the three legged robot in a bucket." or even more complex "Put the triangle guy & the blue square guy between the sun and the star."
A helpful page PACKED with sample therapy usage prompts is also included for Free to get you started! You should be able to come up with many many more receptive language listening prompts than we give you! Tip: For even more fun and interesting ideas try using cards from different pages! There are almost countless combinations to create!
If you are looking for strategies for teaching following directions you have found it! These SpeechPages are great for Teaching Following Directions!
These HEAVY-DUTY LAMINATED SpeechPages are Designed & ILLUSTRATED by an Experienced Speech Language Pathologist! Don D'Amore MA CCC-SLP the creator and illustrator of all SpeechPage materials has worked as a Speech Language Pathologist for over 25 years both Full-Time in school setting and Part-Time with Adults with developmental disabilities living in community homes! This vast experience is reflected in the design of each SpeechPage!
NOTE: These materials are designed for use in a clinical setting to practice listening skills for following multi-step directions. These materials are not designed for other purposes.

! Warning: Choking Hazard. Small Parts. Not For Children Under 3. !
©SpeechPage.com Publishing Company

SpeechPages compact a lot of potential usage into a small amount of storage space!