| | |
| --- | --- |
| Orig. Price: | $140.00 |
| Sale Price: | $99.99 |
| Availability: | in stock |
| Prod. Code: | BBWHQ870Q |
*BARGAIN BUNDLE*
SpeechPage's Wh-Questions COMBO BINDER!
If purchased separately these items cost $91.00. This Binder Bundle of our Original Best Selling WH-Question Sets Saves you OVER $30.00! (Limited Time Price!) INCLUDES A CUSTOM Storage Binder!
This Binder Combo contains our Most Popular Original WH-Question sets!
• INTERACTIVE (90 Cards!) Wh-Questions ALL 6 WH-Q! (Reg $52)
(Contains Both Our Sets 3A (Reg $26) & 3B (Reg $26) Pull off illustrated velcroed cards and reveal the illustrated answers beneath!
• Wh-Questions Illustrated! 6A (Reg $16)
(180 WH Questions w/ illustrations!)
• 600 Different WH-Question! (Reg $16)
(100 of Each Type!) 6A
A very compact source of WH Q's!
And a Custom BINDER (reg. $7) to store and organize your materials!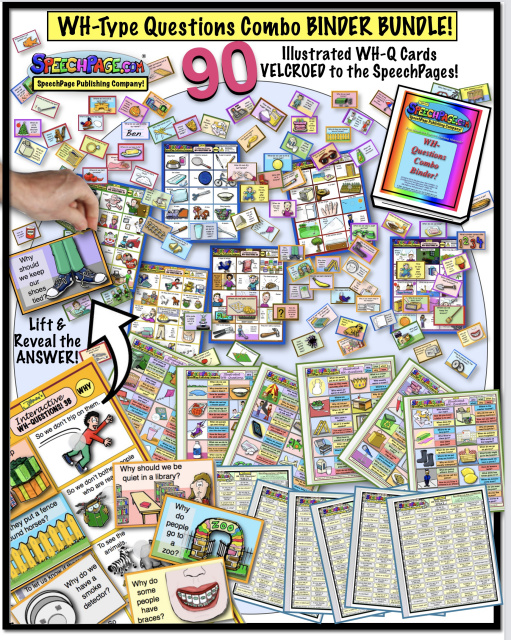 Detailed Descriptions:
You Get:
• INTERACTIVE 90 Cards Wh-Questions ALL 6 WH-Q!
(Contains Both Sets 3A & 3B)
A BEST SELLER! 90 Different ILLUSTRATED Velcroed pull-off WH- Question Cards with ILLUSTRATED answers shown underneath!
COVERS ALL SIX WH-TYPE QUESTIONS!
WHO, WHAT, WHERE, WHEN, WHY & HOW type questions!
(THIS IS A COMBO OF OUR PART 1 & Part 2 Sets!)
QUALITY COMPACT PRODUCT! 90 DIFFERENT Colorful Interactive Illustrated Cards! Pull off to reveal illustrated answers! (We used 180 dots of velcro to make this combo set! That's a LOT of interactive fun learning!)