| | |
| --- | --- |
| Orig. Price: | $31.00 |
| Sale Price: | $23.25 |
| Availability: | in stock |
| Prod. Code: | LCICM5A |
TODAY: 25% OFF For INSIDERS ONLY!
Limited Amount Sold For This Price!
ALMOST ALL GONE AT THIS PRICE! THIS IS A VERY LIMITED TIME LIMITED QUANTITY OFFER AND THIS SALE PRICE WILL BE REMOVED AFTER A SELECT NUMBER HAVE SOLD!!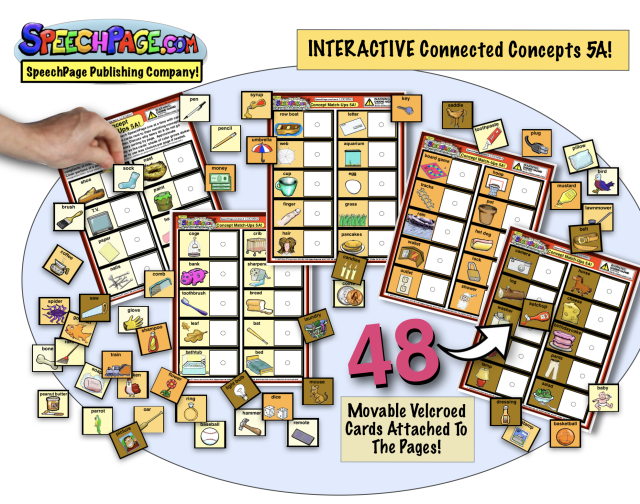 96 ILLUSTRATIONS of 48 INTERACTIVE CONNECTED CONCEPT MATCH-UP PAIRS! ALL ON FIVE CONCENTRATED SpeechPages For Easy Storage! Teach the concept of similarities and connections of items (such as HAND and GLOVE) in a FUN INTERACTIVE WAY! Let the client match-up the laminated and velcroed cards with the concept illustrated on the SpeechPage to make a matched set!! EVERYTHING IS HELD INTO PLACE WITH VELCRO ON YOUR EASY TO STORE SpeechPages!
(We use 96 Velcro Dots to make this product!)
Each of these FIVE Special concentrated SpeechPages has interactive picture cards (48 cards total!) to demonstrate how these common vocabulary items are linked together!.
The GLOVE goes with the HAND! The KEY goes with the LOCK! PLUS: 46 MORE MATCH-UP PAIRS! These SpeechPages range in complexity and the pages and cards come in different background shades to allow for easier sorting and usage.
Simple to use! One suggestion might be to remove the attached cards, and discuss each concept pictured on the SpeechPage and then allow the client to fill the pages with their choices of matches. Discuss why some items go together while others do not. A usage suggestion area is included on one of these SpeechPages which gives ideas for instruction.
(As with all SpeechPages- Everything is heat sealed in heavy duty 5-Mil laminate! Plus: EVERY SpeechPage is 3-Hole Punched For Handy Storage in any standard 3-ring binder! ) ! Warning: Choking Hazard. Small Parts. Not For Children Under 3. ! All information is suggestion only. Usage is determined by the professional. There are many different aspects of the individual's abilities and degrees of severity of communication abilities, methods, and differences that must first be determined through formal evaluation by a qualified professional before therapy can begin. ©SpeechPage.com Publishing Company