| | |
| --- | --- |
| Orig. Price: | $65.00 |
| Sale Price: | $49.99 |
| Availability: | in stock |
| Prod. Code: | BAACAP4B |
TEMPORARY SALE!
WOW! 51 Different Pieces/Cards Velcroed to these SpeechPages! Ready-To-Use & FULLY ASSEMBLED IN THE USA!
We Laminate & HAND-CUT each of the puzzles in this unique product for you! Allows for motivating One-of-a-kind AAC Learning!
LAMINATED & VELCROED PUZZLE PIECES AND CUSTOM MATCHING PICTURE COMMUNICATION SYMBOLS ARE INCLUDED RIGHT ON THE SpeechPage!
Does Your Student Learning to use AAC LOVE PUZZLES?
This set is designed to use that strong puzzle motivator to help teach communications skills using AAC Strategies!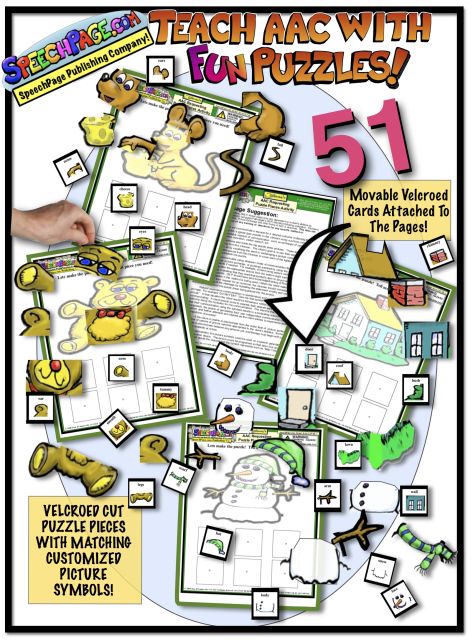 This set is designed and illustrated by an SLP that has specialized in AAC & AUTISM for more than two decades! Helper Page with suggestions is included!
These POPULAR introductory level Augmentative/Alternative Communication (AAC) request for puzzle pieces SpeechPages will give many students with Autism or developmental disability both a reason to communicate and a way how to communicate.


Each of these FOUR SPECIAL SpeechPages has an outline of a puzzle lightly shaded so that it is clear which brightly colored pieces are need to complete the puzzle.
The Clinician holds the puzzle pieces while the student asks for each of them individually. The student's goal is to communicate a request for the pieces of the puzzle using whichever mode of communication that they have established (i.e. vocal, picture exchange, pointing, etc.) These velcro backed laminated picture symbols could also be attached with velcro to an introductory type communication device or velcro binder.

The motivation to complete the puzzle encourages the student to create expressive communication messages on their own to gain that which they desire. The laminated picture symbols velcroed onto each of these SpeechPages can be presented one at a time or combined with more depending on the student's ability.

Four different AAC Requesting Intro Activity for picture puzzle SpeechPages are included.

An additional "Usage Suggestion" Page is also included! NOTE: The qualified Clinician using this product should have a familiarity with Alternative/Augmentative Communication systems and exchange of communication symbols as a method of communication. Not all clients are capable of using specific forms of AAC.


(These items are individually hand-made! Let SpeechPage do that time-consuming busy work for you!)

! Warning: Choking Hazard. Small Parts. Not For Children Under 3. !




©SpeechPage.com Publishing Company