| | |
| --- | --- |
| Orig. Price: | $31.00 |
| Sale Price: | $25.99 |
| Availability: | in stock |
| Prod. Code: | AACRFI4K |
SAVE OVER 15% OFF TODAY! LIMITED TIME "TRY US OUT" DEAL!
OUR NEWER AAC LEARNING SET!
A FUN NEW MOTIVATING INTERACTIVE WAY TO TEACH AAC REQUESTING!
Everything is Laminated! CUT & VELCROED! Ships to you Ready-Made & Ready-To-Use!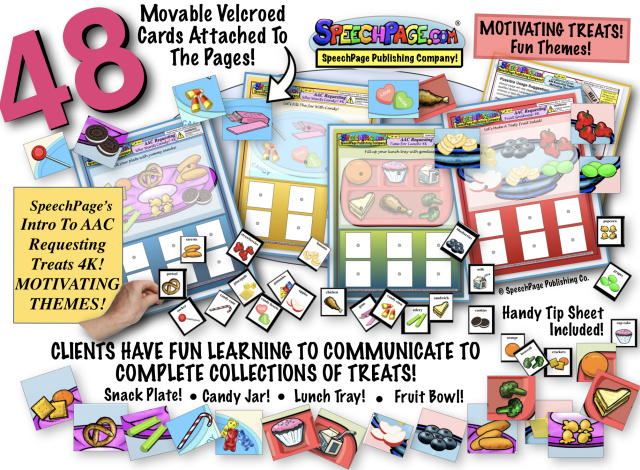 48 laminated and velcroed cards come with this Unique Hands-On INTERACTIVE LEARNING set!
Everything is laminated and attached to the SpeechPages with Velcro!
Everything ships ready-made & READY TO USE in your therapy session!
This set is designed and illustrated by Don D'Amore MA CCC-SLP, an award winning SLP who has specialized in AAC & AUTISM for more than two decades!
Part of the difficulty with teaching independent communication to some individuals is creating motivating conditions to prompt the individual to want to participate in the session and learn expressive communication skills. This set is specifically designed with fun food treat topic picture cards! Pictures of motivating snacks and treats without the need to use any real food in your session at all! Just talk about the fun foods!
This set of SpeechPage exclusive materials is designed to provide a way to introduce many beginning AAC users to a way to practice and learn to expressively ask for items in a fun and interactive manner.
SIMPLE AND FUN TO USE!
The client's goal may be to use their expressive communication method(s) with the matching custom picture communication symbols, to request the matching picture from the Clinician to cover each of the lightened pictures on the top half of the SpeechPage with it's match card. These highlighted missing illustrations are designed for the client to see what is needed to complete the 'missing items' in the collection of treats.
We even include an extra "Suggestions Page" with ideas for using this in therapy!
Yummy Fun Themes! Age-appropriate for a wide range of clients!
24 larger velcroed and laminated pictures are included and 24 matching special picture symbols are also included, all stored on the interactive SpeechPages!
THIS POWERFUL TYPE OF AAC THERAPY IS A SpeechPage EXCLUSIVE!
48 Total laminated cards are attached to these pages with Velcro!
This set may be used with different forms of AAC.

An additional "Usage Suggestion" Page is also included! NOTE: The qualified Clinician using this product should have a familiarity with Alternative/Augmentative Communication systems and exchange of communication symbols as a method of communication. Not all clients are capable of using specific forms of AAC.

(These items are individually hand-made! Let SpeechPage do that time-consuming busy work for you!)

! Warning: Choking Hazard. Small Parts. Not For Children Under 3. !
NOTE: As with all educational and therapy materials, the abilities and limitations of the individual must be considered before choosing these or any AAC materials for usage. Not all clients are capable of using specific forms of AAC. It is the responsibility of the consumer to determine the suitability of our products for use in their particular application. Recommendations for appropriate Speech Language Therapy, therapy materials or communication systems can only be made by a qualified Speech Language Pathologist (SLP) following a formal multi-factored Speech and Language evaluation. There are many different aspects of the individual's abilities and degrees of severity of communication abilities, methods, and differences that must first be determined through formal evaluation by a qualified professional before therapy can begin. All materials are the sole copyright of SpeechPage Pub. Co. and are not endorsed, sponsored by or associated with any other company or affiliation.

© 2005-2019 Don D'Amore MA CCC-SLP All Rights Reserved. MAY NOT BE REPRODUCED, OR DISTRIBUTED IN ANY FORM OR BY ANY MEANS.
©SpeechPage.com Publishing Company