| | |
| --- | --- |
| Orig. Price: | $35.00 |
| Sale Price: | $28.99 |
| Availability: | in stock |
| Prod. Code: | ICSSR4A |
*NEWER ITEM*
20% Off! *LIMITED TIME DEAL*!
SHIPS TO YOU: Laminated-Cut-Velcroed! Ready-Made in the USA & Ready-To-Use!
NEED TO GENERATE SOME SENTENCE LEVEL LANGUAGE SAMPLES?
Let your clients have Silly FUN while they use 24 Different Interactive Velcroed Cards to create Hundreds of different Silly Sentences!
Particularly Great for practicing Sentence Building and/or Carry-over of R sounds at the Sentence Level! (Each Sentence is designed to contain AT LEAST FOUR R-Sound Words!)
READY-Made & READY-TO-USE!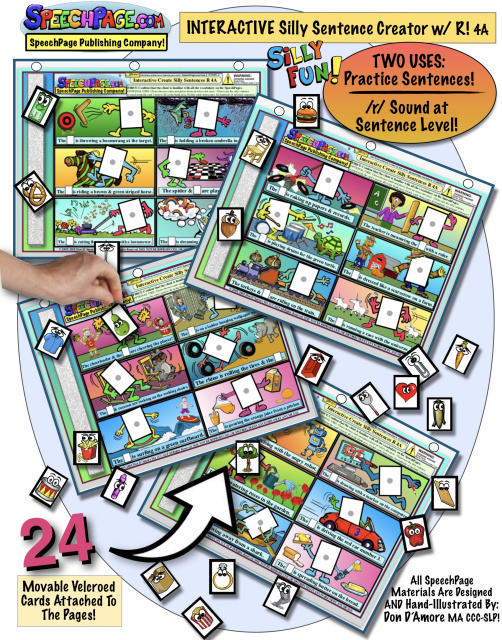 Like ALL SpeechPage Materials, this unique Sentence AND Artic Fun set is DESIGNED AND CUSTOM ILLUSTRATED by Don D'Amore MA CCC-SLP, a practicing School-Based Speech Language Pathologist with over 25 years of experience! He draws these materials relying upon the experience and knowledge that can only come from being an SLP!
HOW IT WORKS:
Your student has fun selecting a silly character card velcroed to the holding area on the side of each SpeechPage. They place the card onto one of the velcroed dot areas in the Silly Scenes on the SpeechPage and then they say the Silly Fun Sentence they created! (Ex: "The 'Popcorn' and the Turkeys are Riding on the Train!" or The 'Chair' is playing the Drums for the Green Turtle!' etc.) The R-Sounds appears in a wide variety of positions and blends!)
SUPER CONCENTRATED DESIGN!
With 24 scenes and 24 interactive cards MORE THAN 500 DIFFERENT SILLY SENTENCES ARE POSSIBLE! (24 X 24 = 576!)
READY-Made & READY-TO-USE!
HEAVY-DUTY HEAT-SEALED LAMINATED & 3-HOLE PUNCHED FOR EASY STORAGE!
Brief directions printed on each SpeechPage!
THESE ARE GENERAL SUGGESTIONS ONLY. Specific recommendations for appropriate Speech Language Therapy and therapy materials can only be made by a qualified Speech Language Pathologist (SLP) following a formal multi-factored Speech and Language evaluation of the specific client.
There are many different aspects of the individual's abilities and degrees of severity of communication abilities, methods, and differences that must first be determined through formal evaluation by a qualified professional before any therapy can be planned or provided.
(c) 2015- 2018 SpeechPage.com Publishing Company