| | |
| --- | --- |
| Orig. Price: | $22.00 |
| Sale Price: | $17.99 |
| Prod. Code: | BAAMDTH6A |
SAVE 23%! $4 OFF FOR A LIMITED TIME ONLY!
A FUN NEW WAY TO PRACTICE THE "TH" SOUND! (This set was created after many requests for a New Fun "Th" Sound set were sent in to us by many different SLPs!)
Includes SIX DIFFERENT Heavy-Duty Laminated SpeechPages:
THREE SPEECHPAGES OF
"TH" MAZES Artic FUN!
Ask your student to say the name of the pictures they go over it while they trace their finger through the maze. Each Maze SpeechPage has 10 target sounds repeated 10 times each. Keep track of percentage of accuracy when you count from the 100 attempts it takes to complete each Maze SpeechPage!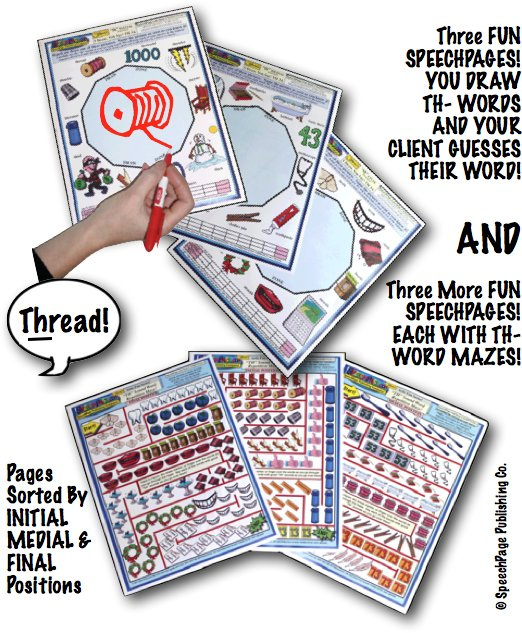 THREE SpeechPages with target "TH" sound for 30 pictures 10 times each.
(One page with 10 sets of "TH" in 10 stimulus pictures in the inital position
One page with 10 sets of "TH" in 10 stimulus pictures in the medial position
One page with 10 sets of "TH" in 10 stimulus pictures in the final position)


(Possible Additional Suggestion: If the student is at the sentence level you may try writing out some carrier sentences and placing the list next to these SpeechPage Artic Mazes for the student to say with each of the 10 X 10 stimulus words!
Example : 1. THeo THanked THe... 2. THad THinks about THree... etc.)
THIS SET ALSO INCLUDES:
THREE SPEECHPAGES OF
Draw & Talk & Wipe "TH" Artic FUN!
Have fun in your session with your students responding to what you draw!

Clinician uses a wipe off type marker, (such as dry erase-also sold separately) to draw quick and simple versions of the target stimulus pictures on the page. Even if you can not draw well, let your students have fun guessing what the picture might be from the 10 choices on each page. The intent is to produce a spontaneous sample of the target sound in the word level as the clients try to guess the words while you are drawing them. (Sometimes not drawing well can actually produces a lot of fun spontaneous guesses from the client, resulting in more attempts at the their target sounds!)
Wipe off and reuse these laminated (5 mill) pages. A handy tracking chart is on the bottom of each page.


This set includes:

THREE SpeechPages with target "TH"sound for 30 pictures total.
(One page with "TH" in 10 stimulus pictures in the initial position
One page with "TH" in 10 stimulus pictures in the medial position
One page with "TH" in 10 stimulus pictures in the final position)



©SpeechPage.com Publishing Company